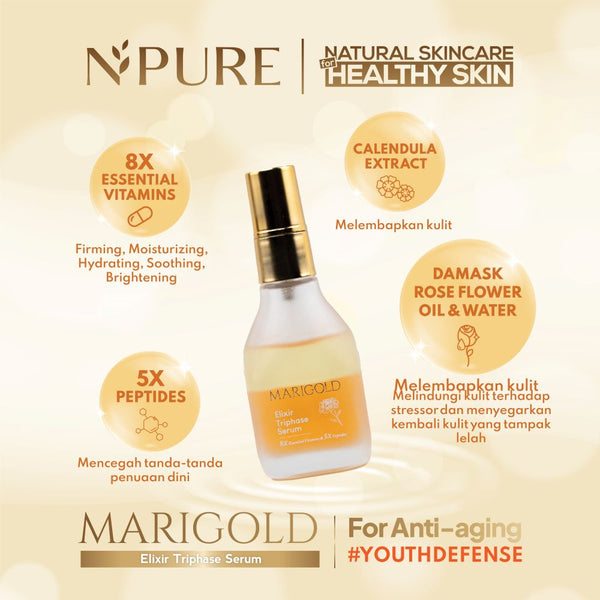 NPURE Marigold Elixir Triphase Serum
NPURE MARIGOLD ELIXIR TRIPHASE SERUM
BPOM NA18220104366
Size 40 ml
Serum triphase dengan kombinasi Ekstrak Marigold, 8X Essential Vitamins, dan 5X Peptides untuk merawat kulit agar tampak lebih kenyal, halus, dan lembut. Diperkaya dengan Rose Flower Oil & Rose Flower Water untuk membantu mengurangi tanda-tanda kelelahan kulit sehingga kulit tampak lebih sehat bercahaya dan segar.
Dapat digunakan mulai usia 14 tahun
Key Ingredients:
Calendula Officinalis (Marigold) Flower Extract
8X Essential Vitamins (Vit. A, Vit. B3, Vit. B5, Vit. B6, Vit. B7, Vit. B9, Vit. C, Vit. E)
5X Peptides (sh-Polypeptide-9, sh-Polypeptide-11, sh-Oligopeptide-1, sh-Oligopeptide-2, sh-Polypeptide-1)
Rosality™ (Rose Flower Oil & Rose Flower Water) 
Cara Pakai:
Kocok dahulu untuk mencampurkan fase air dan fase minyak. Semprotkan dengan jarak sekitar 15 cm pada kulit wajah secara merata.
Product Claim:
BPOM, Dermatologically Tested, Alcohol-Free, Paraben-Free, Fragrance Free, SLS Free, Mineral Oil-Free, Silicone-Free, EU Allergen-Free, Minimal Ingredients
Kemasan produk
Pada saat di shake cairan serumnya keluar lwt smportanya.
Jd ya cpt habis kebuang
Tolong di perbaiki kemasannya ya
Utuk hasil langsung terbukti, kulit wajah lembab, kenyal dan lebih bersih(putih) 👍
Elixir for Anti Aging Serum -- in Spray!
OMG, this is such a lovely product. Easy to use, just spray anywhere anytime, a triphase serum, just shake and spritz, and you're done! Did I mention that it's for anti-aging? At such an affordable price and beautiful packaging. Proud!!
NPURE Marigold Elixir Triphase Serum